Its that time at Paper Popsicles! And this week you can win a $10.00 gift certificate to the store where Melissa has just added some AWESOME Jenni
Bowlin
, mini letters, Fancy Pants Halloween paper,
Sassafrass
Montrosity
, Basic Grey
Bling
, plus MUCH MORE!! So let's see what you do with this cute card sketch!
And here is my card that I made with the sketch!
We are VERY busy at Paper
Popsicles
cooking up some fun things to do! So make sure to stop by the Message board on World Card Making Day October 3rd for some fun and inspiring ideas!
And on October 10
th
we are going to be having a Halloween blog hop! It is going to be
SOO
much fun with all kinds of Halloween eye candy, and of course LOTS of prizes as well! And if you head on over to the
Paper Popsicles blog
there is some blog candy available for spreading the work about the the blog stomp!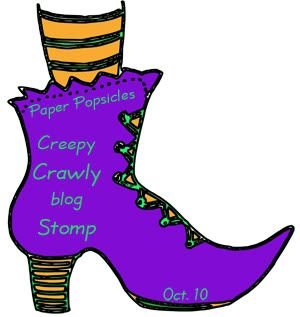 And while we are talking Halloween here is my monster shape card from Paper Popsicles I promised.
I covered the body with flocking and used alcohol ink to dye him the green color, and his legs are distressed Stickles. (One important tip: if you are going to do this either print or trace him onto THICK paper! He was too warped and flimsy to stand on his own when I was done) I stitched his mouth with embroidery floss and added the fun googly eyes! Since he was too flimsy to be a shape card I used some acrylic pieces from Midnight Oil to create a fun acrylic card instead! I used my newly purchased Big Bite to punch my holes and some DoodleBug ric rac to to tie it together! Sorry you can see a reflection in the 2nd pic, but its drizzling again so I can't get a new pic!
Now head on over to the sites, get your supplies and create one of your own!
TFL!
Valerie