Where shall I start first?


OK- so DON'T forget that the Paper Popsicles Creepy Crawly Blog Stomp is this weekend!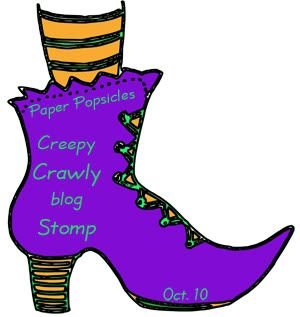 There are going to be some FANTASTIC projects, give aways, freebies and the grand prize winner is going to win the "Loud Talker" from this month! So make sure you come and play Saturday!
Yesterday was my day to post on the Midnight Oil Scrapbook Designs
blog,
so make sure go on over and check out my projects! They will help get you ready for Halloween!
So now I bring you the Paper Popsicles card sketch of the week by
Tricia
!
And here is my fun Halloween card using the sketch!
Next up is the Thursday layout sketch by
Lynda
!
And I had fun using the Fancy Pants kraft paper line to create this layout of Nicholas enjoying baby food! (YES I STILL have LOTS of baby pictures to be scrapped still!)
Next up on my LONG list today...I never posted about my publication this month! I can't believe I did that!! I had a layout published in the October issue of scrapbooking.com!!!! You can view my article here! I was SOOO very excited to get another layout published!!
So how did you spend World Card Making Day??? I went over to the LSS Craft Fancy and picked up some supplies, and made this adorable card at their free make and take! It was so easy and fun to make!
I also made a ton of cards on Friday night at the crop at Hannah's! I had fun hanging out with Robin and going crazy with ALL the new products they had to buy! Here are my cards I made!
And speaking of Robin can you please keep her in your prayers, she went into preterm labor on Sunday at 27 weeks. Her little girl needs to relax and stay put for a LONG time yet!
TFL!
Valerie